The Sea
by Whymper, F.
Title:
The Sea
Author:
Whymper, F.
Publisher:
Cassell Petter, Galpian & Co.
Illustrator:
ISBN:
Edition:
Asking Price:
£160.00
Book Condition:
Very Good
Place Published:
London
Book Type:
Year Published:
Size (Inches):
7.25" - 10.25" Tall
Binding:
Three-Quarter Leather
Jacket Condition:
No Jacket
Questions?

If you have any questions, or would like to find out about postage options and costs, or would like to purchase this book now, please use the "enquire / buy" button. You are under no obligation to buy at any stage.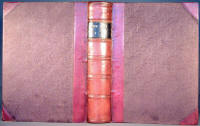 CLICK HERE FOR A Maxi-View ™